Personalized Cancer Care. Realized.
Forging a Clearer Path to Cancer Treatments
Allarity Therapeutics CEO Letter to Shareholders:  Read the letter from CEO James G. Cullem  to Allarity's shareholders and other stakeholders, published on August 11, 2023
Allarity Therapeutics is a clinical-stage precision medicine company actively advancing a pipeline of in-licensed oncology therapeutics for patients with difficult-to-treat cancers. The company is leveraging its proprietary, highly accurate Drug Response Predictor (DRP®) technology to refine patient selection and improve clinical outcomes. Publicly traded on NASDAQ, Allarity (ALLR) is headquartered in Boston, MA, while maintaining an R&D facility in Hoersholm, Denmark. Allarity is committed to enhancing patient outcomes through improved decision-making and personalized cancer care.
Our Lead Program: Stenoparib
Stenoparib is at the forefront of Allarity's mission to personalize cancer care. Here's why it's our lead program:​
Dual Action: Stenoparib is an orally available, small molecule inhibitor that uniquely targets both DNA damage repair enzymes (PARP) and key cell division and growth enzymes (Tankyrase) in tumor cells. This dual inhibitory action sets it apart from other PARP inhibitors and has the potential to provide two mechanisms of killing cancer cells.
Clinical Promise: Stenoparib has demonstrated promising monotherapy activity in ovarian and pancreatic cancers during prior Phase 1 trials, showcasing its therapeutic potential. Our early Phase 2 data indicates clinical benefit in women with advanced ovarian cancer selected with DRP® Companion Diagnostic, read more about these results here.
Personalization: We use our clinically-validated DRP®-Stenoparib companion diagnostic (CDx) that enables us to identify patients who will most likely benefit from this innovative therapy, paving the way for personalized cancer treatment.
Tackling Resistance: Since stenoparib also inhibits Tankyrase in tumor cells, it offers new hope to patients who have developed resistance to other PARP inhibitors, addressing a critical unmet need.
Combination Potential: Because of its relatively low myelotoxicity (as compared to other approved PARP inhibitors), stenoparib may be a more suitable candidate for combination treatments that hold the potential for synergistic and higher therapeutic benefit in patients.
Global Perspective: Allarity holds the exclusive, global rights for stenoparib, and we have partnered with LONZA for GMP drug manufacturing in order to meet the strictest regulatory requirements worldwide.
Versatility: While our current Phase 2 study is focused on advancing stenoparib toward eventual approval in ovarian cancer, we believe the drug's potential may extend to multiple cancer types, making it a versatile weapon against cancer. Towards that goal, we are also conducting a Phase 1b study of stenoparib in combination with dovitinib (our pan-tyrosine kinase inhibitor) in multiple solid tumor types.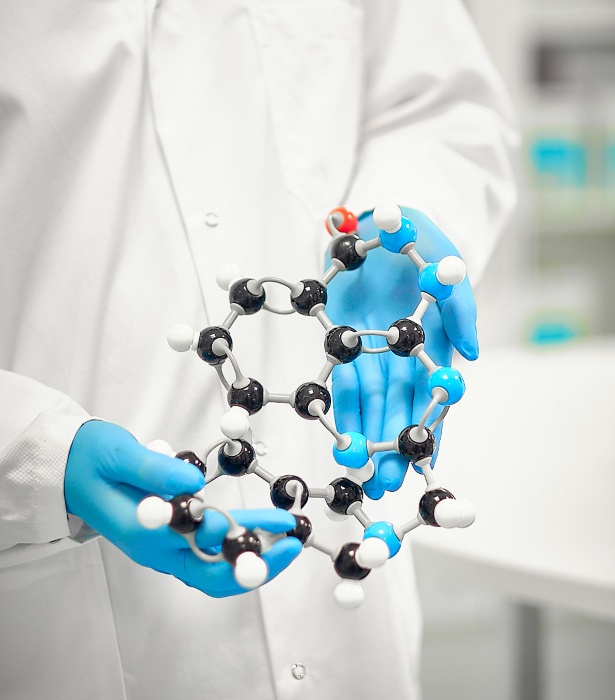 Molecular model of Allarity's lead asset: stenoparib
Our DRP® Technology is a first-in-class, highly validated diagnostic platform that models human tumor biology and can help predict whether a cancer patient will respond or not to a particular drug
Results from our DRP® platform have been published in numerous peer-reviewed scientific journals, highlighting the predictive capabilities of our proprietary approach to precision medicine.
No two people are the same. Neither are their cancers. DRP
®
technology is a unique and best-in-class proprietary diagnostic platform built upon a deep systems biology analysis of all transcriptional (RNA) changes in tumor cells in response to a broad range of drug types, and refined with actual gene expression data from more than 3,000 patient tumors
"We are building a personalized medicine company developing new therapeutics for unmet needs in the treatment of human cancers through use of our world-class companion diagnostics platform."